At Drywall Pro Cut we are always striving to find ways to improve the way we work in the drylining industry. A great example of this is a recent project for perimeter coffer lighting offsite. In fact, we see great benefits in producing items such as deflection heads, builders work holes, door sets and many more off site.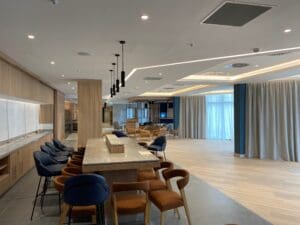 On one of our current projects, a client trusted us with prefabricating a perimeter coffer to carry two linear LED light strips.
Perimeter Coffer Lighting Detail
Producing these components off site has many advantages:
Quality: By manufacturing off site we can monitor the quality much easier and give assurance to our clients that they have been built correctly.  The boards are all cut using a large table Flextos machine, giving a machined finish to the board.

Speed: We can manufacture the bulkheads a lot quicker in a factory setting.  Built in purpose made jigs instead of being made in situ 3m in the air off a scaffold.  

Programme: By manufacturing these labour intensive items off site we reduce the amount of man hours on site, aiding in achieving programme dates.

Health and Safety: Less on site production reduces the chances of an accident occurring.  It also reduces the amount of dust and waste produced on site. 

Covid-19: In the current pandemic with social distancing the bulkheads are 2.4m long so our site operatives can work safely within the guidelines.
Some of the factors to take into account during the process of design and manufacturing the perimeter coffer lighting are as follows:
Due to the weight of the finished bulkhead it has been built in three separate pieces.

Transportation: They have been built 400mm wide x 2.4m so they can be packaged on a standard 1.2m x 2.4m pallet.

Installation: The metal work extends past the plasterboard at one end and is short the other to allow the bulkheads to be slotted together.
If you need perimeter coffer lighting or any help with any other drylining project then get in touch with Drywall Pro-Cut today!
All the latest Manufacturing News brought to you by AIM Internet.
AIM Internet specialise in digital marketing services that provide strategic online marketing solutions to grow your business. Contact us today to find out more.