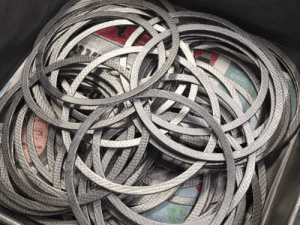 Graphite head gaskets are one of the many different types of gaskets, and shim washers, that we can manufacture, here at Stephens Gaskets. As leading manufacturers of precision machined components, we believe in offering only state-of-the-art parts. This helps to make sure they offer their industrial application the highest levels of performance. When it comes to choosing a head gasket, it's important that you choose a material that is suitable for your automobile. The wrong material can jeopardise both the safety and performance of your vehicle. We understand that not everyone will have as much experience with gaskets as our team do. Therefore, when you come to us, we'll talk you through all of the suitable options for your requirements. 
The Benefits of Graphite Head Gaskets 
Graphite head gaskets are extremely reliable and are one of the most popular choices of head gaskets in the automotive industry. Our graphite flake sheets are capable of withstanding significantly aggressive chemical environments. Their performance can, also, go unaffected in high pressure environments. All our metal inserted materials are built in a fashion to function at even higher pressures. Under reducing environments, pure graphite is accomplished to handle up to 5000 F. Graphite head gasket material is incredibly popular due to the fact that it can provide thermal stability, and low creep relaxation. Standard grades for graphite gaskets range between 95% and 98%. The material is known to be an extremely conformable material which gives it the capacity to flow into flange surface imperfections. It also possesses low permeability, and holds excellent resistance to chemicals. As a result, making it a perfect choice as a sealing material.
Different Types of Head Gaskets 
At Stephens Gaskets, we offer many different combinations of graphite combined with a variety of core materials. We believe that by being as flexible as we can with our gasket manufacturing services, we can enable industries to get the most suitable gaskets for their niche applications. The flexible graphite we use for manufacturing gaskets is known for its extra soft nature, which makes it a superb sealing agent. In order to protect the gaskets during handling, we offer a specially designed foil insert. For ease of cutting, we also offer a tanged insert with our graphite gaskets. Our gaskets can be supplied in various grades of graphite gasket material, including grades suitable for the automotive, industrial, and nuclear industries. 
Trusted Gasket Suppliers
We've been UK gasket suppliers for decades now. In that time, we've developed a deep understanding of what makes a good head gasket. With our knowledge and experience, we have created and developed upon our gasket manufacturing services. Therefore allowing us to meet as many different industrial requirements as we can. Our time in the industry has also meant that we've now got long-standing relationships with our suppliers. This means that we have access to the finest quality of materials and resources. As a result, we guarantee you a reliable, and high quality product, at the most competitive price. 
Looking to Buy Graphite Head Gaskets? 
If you would like to find out more information about our graphite head gaskets, then head to our website today. Alternatively, you can call 0121 544 5808 to speak to a member of our helpful, and friendly team.
If you have found this blog helpful, you may wish to read our previous blog on Neoprene Rubber Gaskets.