Commercial epoxy flooring is a great flooring solution if you are looking for a durable, and easily-maintained floor for your property. Commercial property is often seen as a long-term investment that is expected to have incremental year-on-year gains. However, as a landlord of a commercial property the risk of premises being left vacant for a period of time can be costly. Not only does vacancy mean a loss in rental income but also keeping these empty buildings safe and secure from intrusion, vandalism and theft comes at a price.  
Worth the investment
In order to safeguard your investment and ensure that voids are kept to a minimum it is worth investing in your commercial property to make it more desirable. There are 3 main ways to improve the commercial value and appeal of a long-term investment property.
Maximise square footage
The most common way to add value to a property is by adding more usable floor space and square footage. Obviously adding floor space such as a mezzanine floor can almost double your floor space at relatively low cost. However, depending on the use of your property this doesn't have to mean extending or building a mezzanine. In fact,  it could just mean taking out non-structural internal walls to change outdated layouts and repurpose a space. For example, if the office space in relation to the warehouse space is disproportionate or is made up of multiple smaller spaces with wasted corridor space, it would be a good investment to put that right. 
Demarcation of walkways can be installed easily and at a relatively cheap cost. 
Improve the curb appeal
The external appearance of a property greatly influences its value to a potential tenant. Full renovation such as painting/rendering the building, replacing windows and doors etc can totally transform the look of the property but require significant investment.
On the other hand, clean, well-maintained and safe grounds, gardens and walkways around your building add value and cost very little. Literally by just removing clutter and cleaning up rubbish bin, marking out car park spaces, adding demarcation walkways, and loading bay hatching, can transform the curb appeal of a commercial property.
Create a modern interior
Whilst the exterior appearance is very important, the interior can be just as crucial. Modern businesses tend to prefer open plan, light and bright spaces. Trendy meeting spaces, communal kitchens, and hygienic toilet facilities are all important interior features. 
This trend however now extends out into the warehouse / workshop/ manufacturing spaces too.  Light, bright and clean are definitely more appealing than dusty, dark and dank ones. Using epoxy resin flooring systems throughout warehouse/ workshop/manufacturing spaces can transform the look, feel, light and appeal of the space. 
Commercial epoxy flooring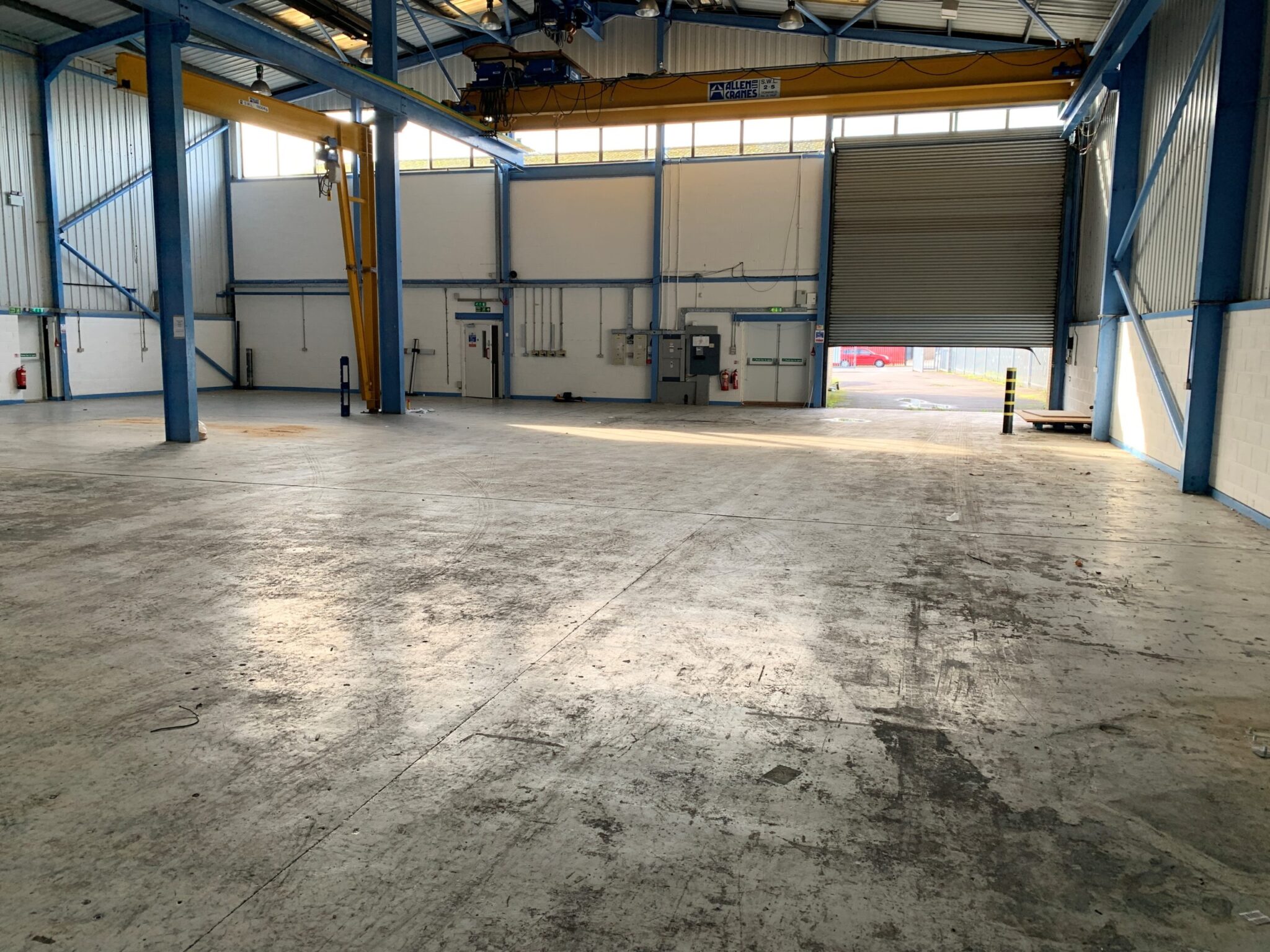 A landlord in Oxford recently asked PSC Flooring to help him add value to his commercial property as he was considering commercial epoxy flooring. The 700sqm warehouse had been previously let to a long-term tenant as an engineering works. The space when cleared out, was dirty with extensive layers of old failed floor paint and numerous racking bolt holes the tenant had installed.
The landlord told PSC that prospective tenants had specifically requested an epoxy resin floor and whilst he was keen to keep renovation costs to a minimum, he appreciated the perceived value that this added to his property and how it helped to get him his desired rent.
Are epoxy floors durable?
Epoxy resin floors are durable. The amount of durability depends on the thickness of the epoxy resin coat applied. Resin flooring is designed to adhere very strongly to concrete. Widely chosen for its hardwearing nature and aesthetically pleasing finish epoxy resin flooring systems are the floor of choice for Pharmaceutical, Food & Drink, Automotive, Engineering, and Warehousing and Electronics Industries. Combined with its superior performance characteristics, and a life expectancy in excess of 20 years when specified and installed correctly, the initial installation cost when amortised over the lifespan makes it a very cost-effective option.
Installing epoxy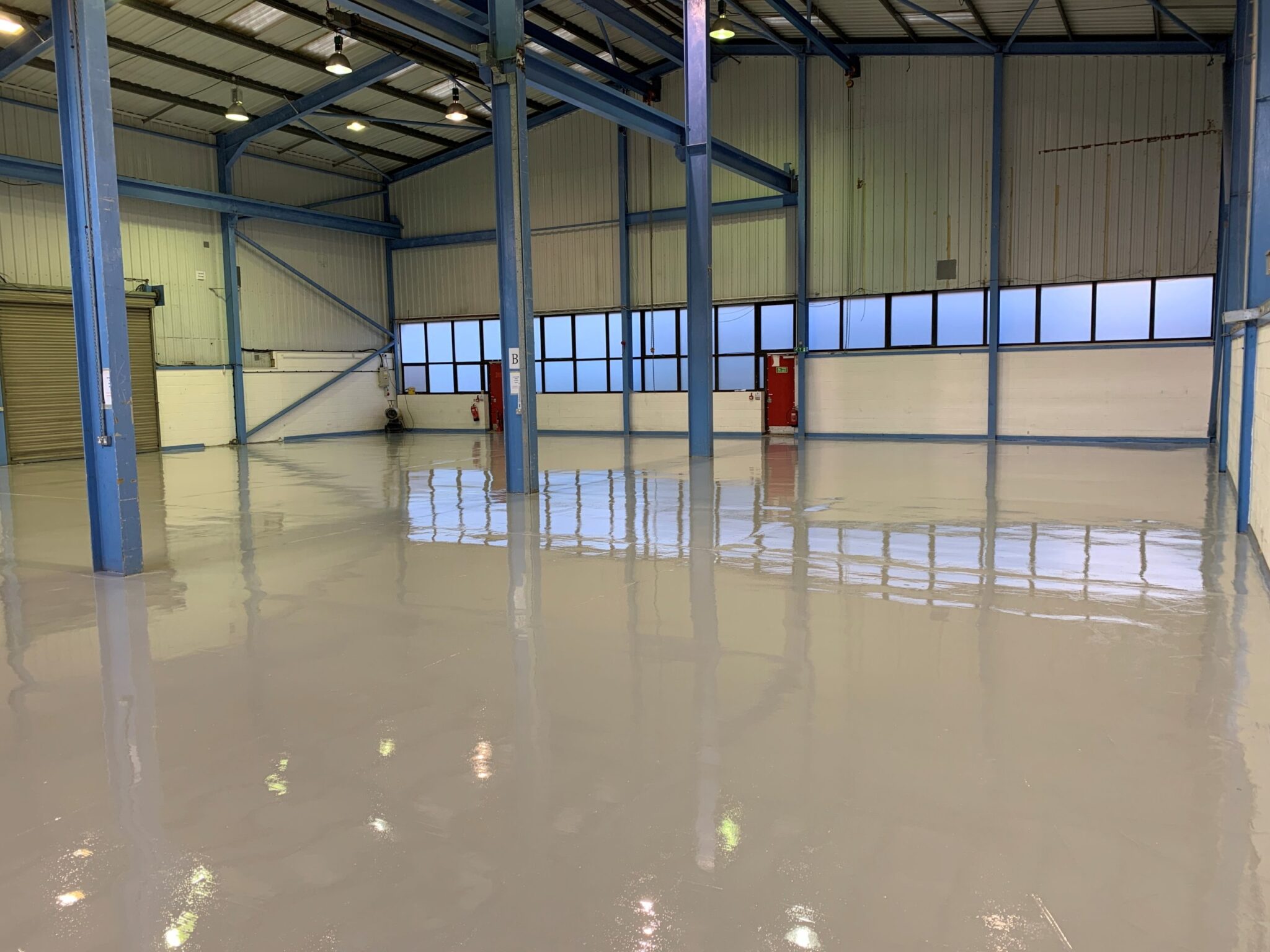 After extensive grinding to remove the 4+ layers of failed floor paint, all bolt holes were filed and prepared for 3 coats of Resdev Pumatect
 High Build Epoxy Resin. It was completed in just 5 days, adding to the additional works carried out of decorating, cleaning the skylights, updating the electrical lighting and various other jobs. The landlords chosen light grey colour scheme added much needed reflective light into the working space making it light, bright and modern. 
"I couldn't be happier with the new floor" stated Nick Webster "I feel the works carried out overall have safeguarded my investment and improved the commercial value and appeal of this property
Contact us today
If you are looking for commercial flooring and are considering commercial epoxy flooring then head to our website today. Alternatively, you can call 01562 546080 to speak to one of our helpful and friendly industrial flooring contractors. If you have found this blog helpful, you may wish to read our previous blog on Flooring for Food Processing.