Paint Spray Booths
We have recently been undergoing some renovation on our brand new paint spray booths,
As a company we have been asked to undertake some very prestigious and challenging work so we wanted to make sure we had the most up to date equipment and facilities to carry out this work.
Our current paint spray booths have been great for carrying out all types of different work, but after 28 years we felt we needed to invest in an enhanced facility as we have done with our powder and e-coat facilities.
This will ensure that we continue to provide our customers with exceptional quality work.
Improved conditions
The new paint spray booths have better lighting, extraction and mixing booths meaning the standards of  work we are able to produce and the conditions for our  workforce will both be greatly improved.
The new booths will therefore allow us to meet the needs of existing and new customers who been asking if we can wet spray larger items while also achieving the very highest quality standards.
Our old booths are being dismantled in readiness for another exciting project to be carried out. More on this to come…………
Excited for change
As a company we are all really excited about the changes and continuous investment, so if you would like to find out more about this new facility or would like to come and see it in action then please give us a call or send us a message.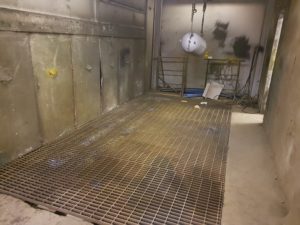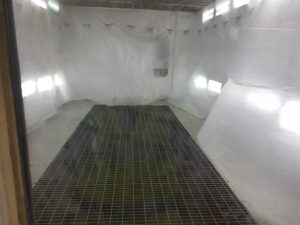 High quality
At Pym & Wildsmith we have over 35 years of experience providing high quality industrial finishes. To find out more please visit our website on industrial spray painting UK or call us on 01889 565 653.
If you enjoyed reading about our newly renovated wet spray booths you may also like to read our recent blog post on Metal Spraying Companies.
Please follow and like us: