Stephens Gaskets is a leading shim and washer manufacturer company, dedicated to
manufacturing and supplying mechanical solutions to some of the world's most vital
industries.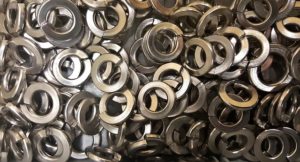 Five decades of experience
Established in 1947, Stephens Gaskets has had over five decades to build up
an in-depth understanding of producing components to improve the functionality of
different mechanical devices. We work hard to maintain strong relationships with our
suppliers in order to gain access to only the finest quality materials and resources to
work with, and we pride ourselves on being able to offer our products at extremely
competitive prices.
Something for everyone
The materials we use to produce our products vary depending on
the application for the component, however the huge selection of materials to choose
from, almost guarantees that there will be something for everyone.
Stainless steel washers
As leading washer manufacturers for washers West Midlands area, we consider it our
duty to be able to supply washers in as many different materials as we can. We want to
ensure that we are the go-to- company for as many industries and customers as possible.
Our stainless steel washers are one of our most popular washers here at Stephens
Gaskets, and are the perfect buy if you are looking for a strong material for your washer
that is not going to let you down after a few uses.
Strength and stability
Stainless steel is one the strongest
materials we supply here, and it is an ideal material to use for washers due to its
strength and stability. Stainless steel has a considerably large amount of chromium
within it that creates a protective layer over the washer, which prevents surface
corrosion and rusting.
The chromium properties means that stainless steel washers will
not stain or corrode as easily as normal steel or other metals, so it is ideal for outside
projects.
Trustworthy..
It is a trustworthy material to use for washers as not only will it help prevent
corrosion in your device or mechanism, but it will also withstand corrosion itself, lasting
much longer than other materials. We can produce washers in 150 different stainless
steel grades, which allows us to create a wide variety of different washers including 304
stainless steel washers.
304 stainless steel washers
Grade 304 stainless steel washers have a respectable amount of chromium-nickel
content and contain low amounts of carbon. This grade is one of the most versatile
steels and is widely used across many different industries and home-projects.
304 stainless steel washers prove extremely resistant to oxidation and corrosion, and are
also very durable. Grade 304 is popular in the stainless steel washer manufacturing
industry as the metal provides ease of fabrication, and offers a variety of finishes.
Get a free quote
If you are interested in finding out more about our grade 304 stainless steel washers, or
would like a free quote, please call 0121 544 5808. Alternatively, you can visit our
website at stainless steel washers.
If you have found this blog helpful and would like to know more about out stainless
steel, you may wish to read our previous blog on the uses of stainless steel.