For any busy manufacturer or owner of heavy plant, steel shims packs are key to the success of the business.
Best stainless steel shim packs on the market
The tip is to find out how they help to keep your machinery operating under all conditions, then buy the best steel shims you can find on the market. Predictably, here at Stephens Gaskets we believe we supply our customers with the best stainless steel shim packs on the market.
And we have good reason to believe our shim packs are the best.
Steel shim packs
Stephen's Gaskets was first established in 1947,  during the post war manufacturing boom. So we have decades of experience supplying our customers with the highest quality steel shim packs. These steel shims are vital for making the difference between a successful business and one that fails to live up to customer expectations.
Increase the life of moving parts
Our steel shim packs comprise steel shims, which are thin slivers of metal that fit in the space between two moving components. They ensure that all the wear and tear of the moving parts are taken up by the steel shim rather than the expensive machinery. This increases the life of the moving parts, decreases the damage done to the machine and ultimately saves the business money through lower maintenance costs.
Stainless steel shim packs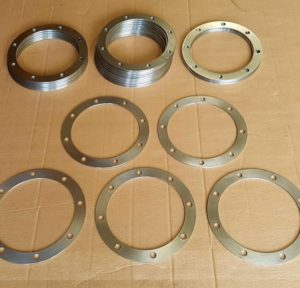 Our stainless steel shim packs come in all shapes and sizes and are fitted into a huge array of products across a range of industries.  As Stephen's Gaskets are the UK's leading steel shim manufacturers, we have the expertise that gives our customers the best possible service. Moreover, we can deliver on time – or indeed, ahead of time – steel shim packs to order. These can be bespoke, to your particular machines, or can be off the peg. We also supply in huge volumes or in small quantities.
As past masters at steel shim production, we are eager to meet our customers to explain about the hugely valuable job our shim packs do. As most people fail to see the essential task of steel shims, our engineers are always happy to talk through the different categories of stainless steel shim packs and the benefits they bring to a business.
As we supply across the UK and now also globally, our steel shim packs are in much demand. But we remain a small business that is committed to customer service.
Get in touch
So if you'd like to know more about our steel shim packs, please call us at Stephen's Gaskets on 0121 544 5808 or email sales@stephensgaskets.co.uk. For more information on these products and services, please visit our website at assorted shim packs.
If you enjoyed reading this article you may also like to read our previous blog post on precision shim washer.
Please follow and like us: