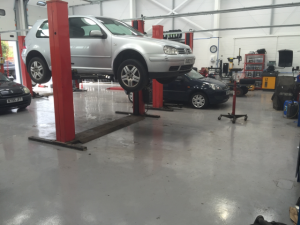 If you are looking to transform your industrial workspace with modern, high-gloss epoxy floor coating, then look no further than Protective Surface Coatings Ltd. We are experts in providing cost-effective resin flooring solutions for a range of industrial and commercial customers. Ideal for enhancing the durability of medium duty workspaces, epoxy floor coatings can offer a more hardwearing and cosmetically attractive solutions for garage showrooms, warehouses, factories and food grade flooring workshops.
How Could Our Epoxy Floor Coatings Benefit you?
Epoxy floor coatings are our most popular product here at Protective Surface Coatings Ltd. The popularity of epoxy floor coatings stems from their quick and simple installation, and minimal disruption to site production.
High standards of resistance
The hardwearing benefits of epoxy floor coatings include high standards of resistance to temperature, chemicals, impact, fire and slippage. Not only can this prevent accidents in the workplace from frequent grease and oil spillages, but also provide the long-lasting strength and wear resistance necessary in warehouse and factory environments.
Improve the brightness of workspaces
The reflective properties of epoxy floor coatings not only offer a high-gloss finish but also improves the brightness of workspaces. A range of colours can be used to outline walkways and add to the cosmetically attractive finish.
Low level maintenance
The low level maintenance of epoxy coatings is ideal for food processing and pharmaceutical clients. The seamless, non-porous surface makes it incredibly easy to clean in order to maintain high standards of hygiene.
Why Choose Protective Surface Coatings Ltd?
In keeping with the ever growing demands of the flooring industry, we offer one of the most extensive range of flooring solutions in the UK, from anti-slip resin flooring, to hygienic resin flooring and polyurethane flooring. We know that expert knowledge is critical in identifying the correct resins, and here at Protective Surface Coatings Ltd, our specialists have over 30 years of experience in providing long-lasting flooring solutions and excellent customer satisfaction.
All of our epoxy floorings meet the British Standard of a 2-5 year predicted lifespan and are completely solvent-free. In preparation of each existing floor space, we use state of the art diamond grinding machines to smooth each surface and apply our resins in two or more coats to give durable thickness.
We tailor our epoxy coatings for manufacturers, factories, and a number of large automotive body shops, namely, Toyota, Peugeot, Ford, Land Rover, Vauxhall, Hyundai, Seat and Mercedes. We also offer food grade floorings for our food processing clients.
Get a free site survey
For more information on our products or services or a free site survey, call us today on 01562 750999 or visit our website http://www.protectivesurfacecoatings.co.uk. We hope you've enjoyed this blog, you may also like to read our previous blog on how we are resin flooring experts.
The post Epoxy Floor Coating – Transform Your Workspace appeared first on Protective Surface Coatings.
Source: Protective Surface Coatings