Ring Shim – Understanding Washers and Shims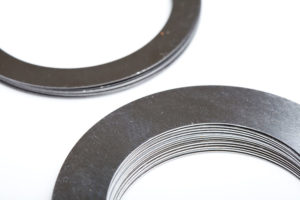 Stephens Gaskets has been a gasket and ring shim manufacturers since the company was established in 1947. With 70 years experience in the industry we know just about everything there is to know. One question we hear a lot is, what is the difference between washers and shims? On first glance they may seem very similar, but each has a very different use so it is important to understand their qualities and properties in order to get the results you want.
Precision Washers
Washers are made in a number of materials such as aluminium, plastic brass, copper, cork, neoprene, rubber and stainless steel to name but a few. It is typically doughnut-shaped, and the diameter around the outside is usually twice the size of the diameter of the inside. Its most common usage is to distribute the load of a screw or a nut, so the fastener will not break when it has to bear weight. Some other common uses for a washer are as a spacer or wear pad.
There are three main types of washers: spring, plain, and locking. Spring washers, sometimes called disc springs, are used to absorb intermittent shock loads and provide a controlled reaction under pressure. Plain washers are used to distribute a weight load, and will prevent damage to the surface that the fastener holds to. Lock washers are designed to secure fasteners that have a tendency to rotate or lose friction.
Ring Shims
Ring shim are also made from varying materials such as plastic, copper, brass and stainless steel. Whereas washers are predominantly doughnut shaped, shims come in all shapes and sizes to fit a particular purpose, which is to support something or fill in a space. A shim can be used in anything from cars to furniture. By filling in a space, a shim ring can reduce the wear of both objects and prolong its longevity.  As mention before, shims vary in size and thickness in order to best fit the gap that needs to be filled.
The Difference
A shim is used to fill the gap between two parts and a washer is used to provide a bearing surface for an attaching fastener. Although the two have very similar properties and purpose choosing the right one will make all the difference to your end result.
Talk to our experts
If you are still confused about what product you need to use, a washer or a shim then you can contact us and talk to one of our experts at Stephens Gaskets. Our friendly professionals can discuss your options and help you choose the right size and shape for the job. Ring Shim Precision Washer information can be found here.