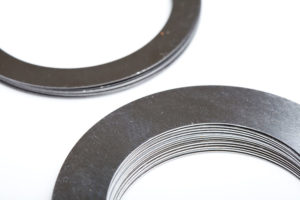 Since 1947, Stephens Gaskets Ltd have been specialists in producing a range of standard shims, gaskets and foils. We manufacture for both the UK and global markets, and to a range of industries, from diesel engine manufacturers to vintage car clubs UK and automotive suppliers.
If you are in search of non-standard shims or washers, we also produce state of the art laser cut shims for clients requiring bespoke components. From small sample prototypes to high consignment volumes, we can provide your business with a range of bespoke and standard products for a cost-effective price.  
Laser Cut Shims and Foil, How Does It Work? 
Bespoke designs require highly powerful and precise lasers to cut metals into complex shapes in range of materials and sizes. Laser cut shims are cost-effective, quick and easy to produce. Here at Stephens Gaskets, our state of the art equipment and highly skilled technicians allows us to continue providing the highest standards of manufacturing to all our industrial clients.
Laser cutting is also useful for keeping down costs, as we are able to carefully calculate the highest number of shims that can be cut from large sheets of metal, which in turn avoids any metal from going to waste.
Stephens Gaskets Ltd – What Makes Us Stand Out?
We have accumulated a wealth of experience in manufacturing flawless laser cut shims and foil, and tailor all of our projects to suit our customers' requirements and budget.
We can produce shims in a range of thicknesses and materials including rubber, foam, leather, felt, fabric, aluminium, brass and many more.
In addition to laser cut shims, we also offer:
Plastic Injection Moulding

Gaskets:

Exhaust, Graphite, Novus, Cylinder Head

Ring shims

Precision Washers

Shims

– Steel, Brass, Stainless Steel, Plastic, CS4, Copper
Excellent service
We have a dedicated team of experts who place client satisfaction and excellent service at the forefront of everything we do. Here at Stephens Gaskets Ltd, we will advise you on the most suitable batch sizes and materials for your requirements and budget.
For more information on our laser cutting services or any of our other products listed above, call us today on 0121 5445808 or visit our website www.stephensgaskets.co.uk/.Our dedicated team look forward to receiving your call.
The post Laser Cut Shims – A UK and Global Provider appeared first on Stephens Gaskets Ltd.
Source: Stephens Gaskets