HLB Plastics is a leading plastic injection moulding company who specialise in both commercial and industrial injection moulding. With over twenty years of experience as injection moulders West Midlands, we have developed an in-depth understanding of all things plastic, which allows us to apply our skills to a wide range of customer requirements; big or small. We strive to deliver perfect results time and time again, meeting customer needs with the highly skilled level of service they deserve, at competitive prices.
What is injection moulding?
Injection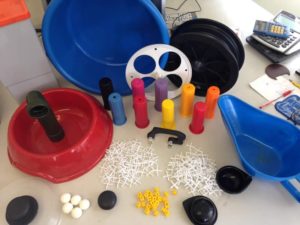 moulding is a process often used to manufacture plastic into different shapes and sizes, including cookware handles, children's toys and syringes. Plastic material is melted until it becomes soft enough to be injected to fill a mould. Once the plastic has cooled and hardened the injection mould then releases the part. This process is extremely popular due to the fact it can create large batches of products that are all consistent in their size and shape. Injection moulding can also be completed relatively fast, which makes it a popular plastic manufacturing method for a wide range of industries including the aerospace, automotive, homeware and healthcare industries.
Plastic Injection Moulding at HLB Plastics
Here at HLB Plastics, we have the skills and the latest state-of-the-art machinery to accommodate a wide variety of industries. We are extremely flexible injection moulders and we strive to ensure we can meet as many different customer requirements as we can. If our standard service doesn't quite meet the criteria you need, we also offer a bespoke service to create products that require more specific tailoring to individual customer needs.
Injection Moulders West Midlands
If you are looking for a reliable, flexible and highly experienced team of injection moulders West Midlands, then HLB Plastics is the company for you. With the aim to deliver every aspect of our services to the highest of standards for our customers, you can rest easy knowing once we take on a project for you, we won't let you down. Two decades of industry experience has meant that our skills and knowledge have developed alongside the rapidly developing plastics industry; equipping us with the ability to solve any problems which may be encountered along the manufacturing journey.
If you are interested in exploring our injection moulders West Midlands service, then please call 01543 275400 to speak to a member of our team. Alternatively, you can visit our website at plastic-injection-moulding.
If you have found the blog helpful, you may wish to read more our previous post about plastic injection mouldings.